STUDIO BUILD STARTED with the idea that integrating the Design and Build processes was the best method of project delivery. We feel that in order to provide the most efficient service to our clients, it is best to take the Master Builder role in lieu of the more traditional Architect/Builder role. Our hands-on process is a method that reinforces that idea everyday, as each new project evolves.
Jerad, describe how your first home purchase became the catalyst to form Studio Build.
When I purchased MY 1949 MID-CENTURY MODERN HOME, I didn't have any idea where things would lead. I had just graduated from Kansas State and was an intern at RDM Architecture. I worked evenings and weekends with a lot of help from friends and family to completely gut and rebuild the house. Just as I was finishing up the house and preparing to photograph, the economy tanked and work at RDM slowed down. I documented the entire rebuild on the house and developed a decent following on my blog. I started getting requests for small projects here and there, the bulk of which were focused on repairing other Mid-Century modern homes or consulting on how to repair. I had a couple of small side jobs at the time, and when work slowed at RDM I asked to just take a few weeks to catch up on them. Those two weeks turned into a month, then another month and next thing I knew, I launched Studio Build and haven't looked back since. There was never a business model or plan in place; I worked out of my house and used my large garage as a shop. The first year was pretty slow. I did a number of really small furniture projects and some general construction. Luckily, I didn't have any substantial overhead, and my wife had a good job. Work started to pick up in late 2009, then Nate and Ryan joined me shortly thereafter.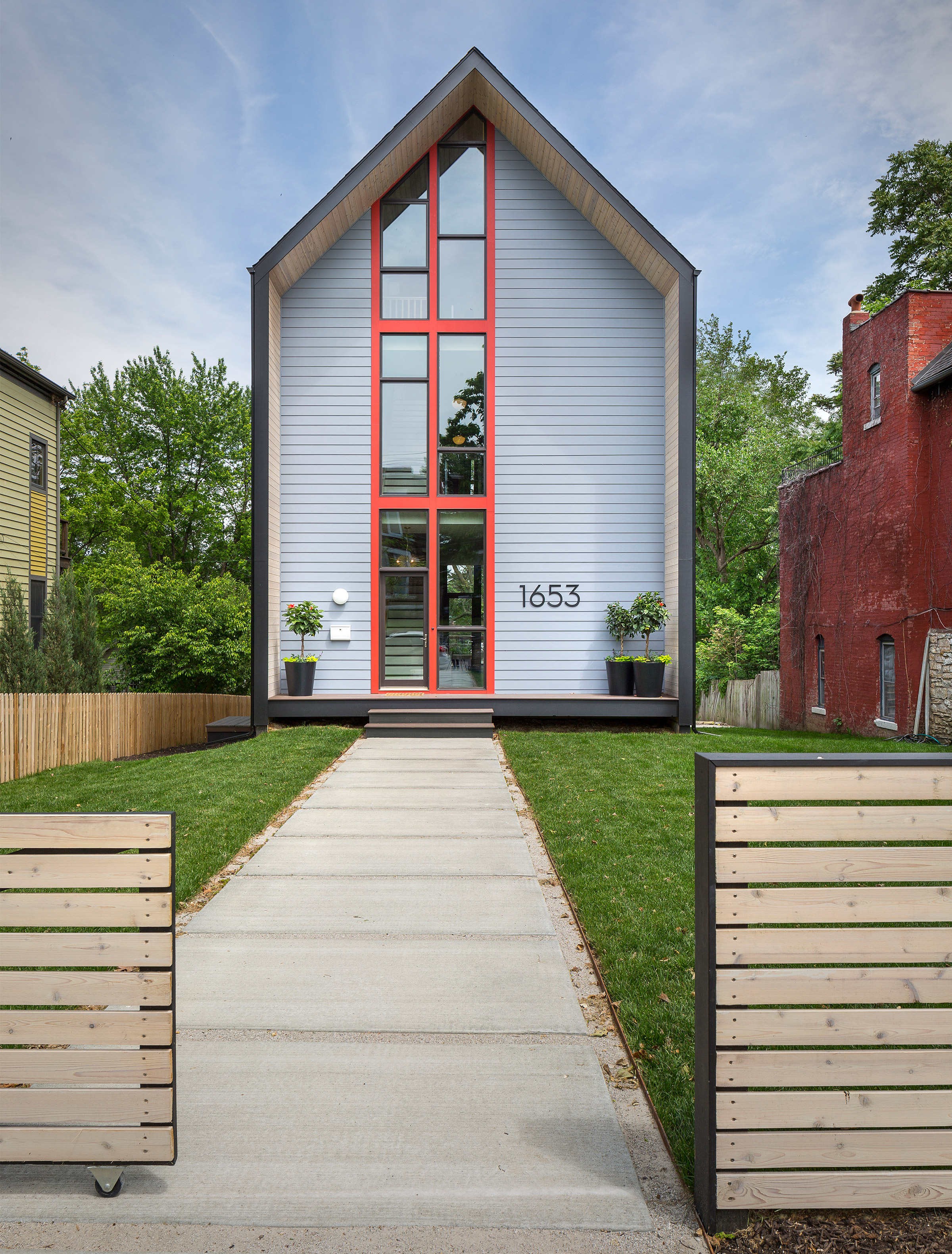 Did the three of you have dreams of eventually working together while in school?
Jerad—I don't remember ever discussing working together. I think we were all focused on getting through school and didn't take the time to dream of what was to come. We all worked together and shared studios, so in hindsight we knew each other's strengths and how each person worked under pressure.
Ryan—I dreamed of eventually having my own practice. Jerad and I worked on quite a few projects together throughout our academic career; maybe it was fate that we ended up partnering professionally.
Nate—I have come from a long line of entrepreneurs. Owning or being a partner in an architecture firm was always a goal of mine. When the opportunity to partner with Jerad appeared, I knew immediately that I wanted to jump on board and step on the gas!
WHAT SETS YOU APART FROM THE TRADITIONAL ARCHITECTURE BUILDER FIRMS?
Design + Build is becoming PRETTY COMMON in our industry. Upon graduating, each of us accepted positions at traditional Architecture firms. We learned through our experience that there had to be a better way to connect to clients and to work through projects. We all worked on projects that never got built and/or experienced conflicts because there was a separation between the design and the build side of the project. Indirectly, it easily created tension between the firm and client. All three of us also have experience in the construction world so it makes logical sense for us to do both. By eliminating the back and forth, the process is streamlined. It allows the client to deal with one entity from start to finish.
HOW DO YOU PERCEIVE THE RELATIONSHIP BETWEEN MATERIAL AND DESIGN?
We are very practical designers and often let our material selection dictate the design. The craft and feel of materials is very important to us. Most of our successful design elements are a result of us trying to find a solution for a material that we have sourced. Sometimes that's a pile of cut-offs from another project in the shop or a new inexpensive siding that we want to use.
WHAT IS YOUR DESIGN PROCESS LIKE WHEN YOU START A NEW PROJECT WHETHER IT BE CUSTOM FURNITURE OR HOME?
We start with  a "wish list" and the project budget. Once those have been identified we try to determine the fixed variables for the project. For us, there are typically a few key elements that help direct the design. Furniture projects are approached the same way, just at a different scale.
"IT'S EXCITING TO STAND IN
A BUILDING THAT A FEW MONTHS PRIOR WAS AN IDEA, OFTENTIMES INSPIRED BY STRANGERS."
WHAT IS YOUR FAVORITE PART OF THE DESIGN + BUILD PROCESS?
JERAD—I really like the framing stage of the project. Seeing spaces come to life and actually building ideas is extremely gratifying.
Ryan—Helping clients see and understand space in three dimensions is always fun for me. We use a 3D modeling program early on in the design to help show spatial relationships and scale. It's always great to see our clients reactions the first time they see the 3D model.
Nate—I can't lie. I enjoy the end of the design/build process. For me, it is the most satisfying and rewarding. It is exciting to stand in a building that a few months prior was an idea, often times inspired by strangers. I enjoy seeing our clients' excitement to move in and enjoy their new home, space, or piece of custom furniture.
FROM WHAT ARCHITECT—PAST OR PRESENT—DO YOU FIND MOST INSPIRATION?
Jerad—It's tough for me to pick one. I gravitate towards many Mid-Century modern architects. Julius Schulman's Modernism Rediscovered is a compilation of Mid-Century modern architecture and always inspires me.
Ryan—That's extremely tough. Ludwig Mies van der Rohe is probably who I am most inspired by. He was very rational with his designs and selection of materials. Most of his projects are incredibly simple.
Nate—I would have to say my favorite Architect is Antoni Goudi. I don't think I draw inspiration directly from his work, but I'm inspired by his approach. He pushed the use of materials. He developed a unique way of figuring out the load paths by hanging weights from a suspended model. So I would  turn things upside down to look at them; you might see things differently. His work is completely unique, mysterious and timeless. In fact, La Sagrada Familia (located in Barcelona, Spain) is still under construction 89 years after his death.
"MANY OF OUR CLIENTS ARE CREATIVE AND HAVE AN INFLUENCE ON THEIR HOME'S UNIQUENESS."
MANY OF YOUR RESIDENTIAL DESIGNS FEATURE BRIGHT POPS OF ACCENTING COLOR. IS IT IMPORTANT FOR A HOME TO HAVE A DEFINING UNIQUENESS?
I think our clients trust that we aren't afraid of color and like to add it where it makes sense. Many of our clients are creative and have an influence on their home's uniqueness, so it is important to us that a home fits the homeowner's personality. We are always excited to visit a project a year or two after the clients have moved in to see the decorations, collections and furnishings in their home.
REHABBING MID-CENTURY MODERN HOMES IS CERTAINLY A REAL STRENGTH FOR YOUR STUDIO.
WHAT IS IT ABOUT THAT ERA THAT YOU FIND SO INSPIRING?
The simple material palette, efficient use of space and large expanses of glass are really what draws us to that era. We strive to reduce the footprint of our projects so they function for the way our clients live rather than providing spaces that rarely get used.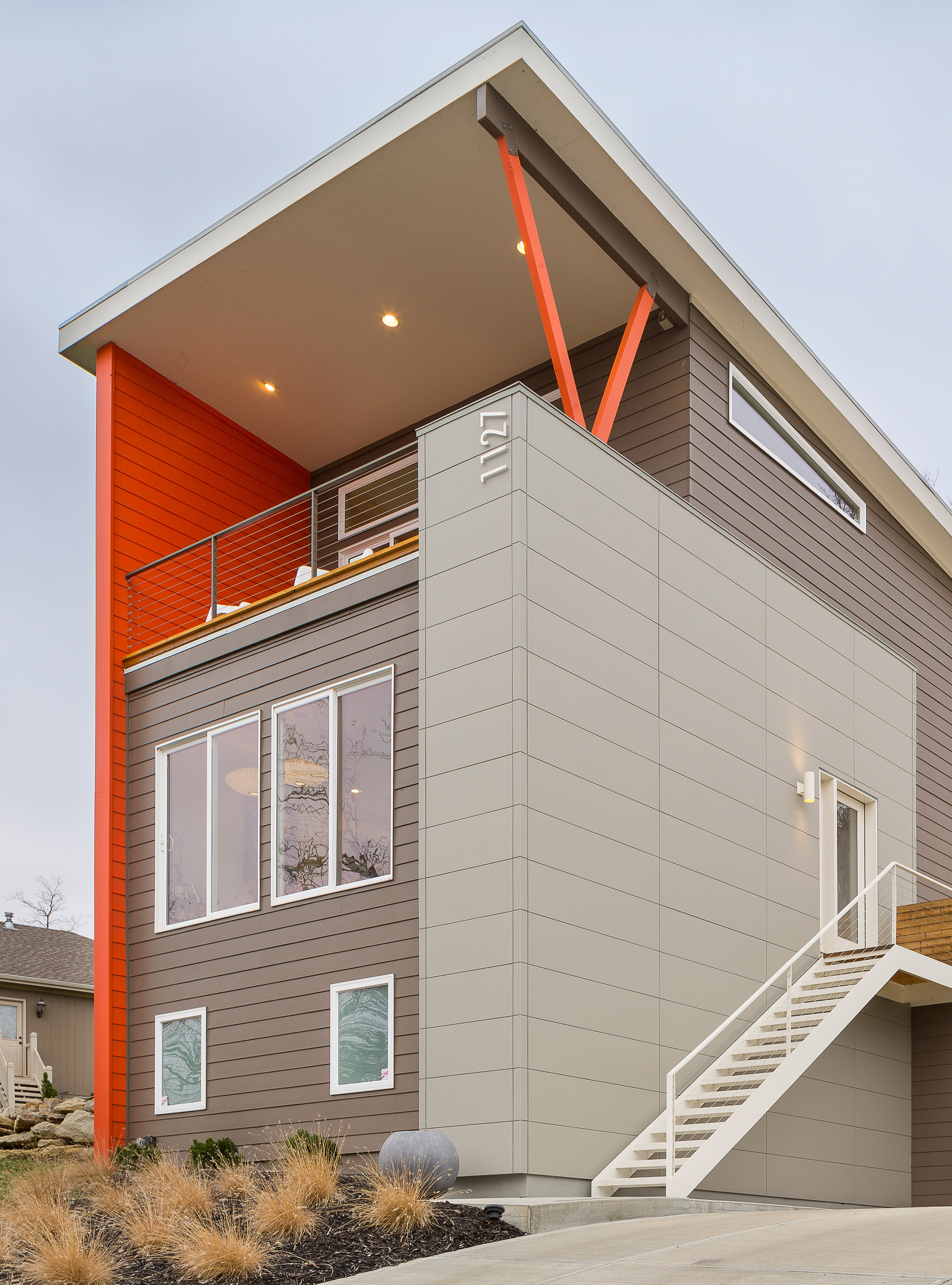 WHAT WOULD BE YOUR DREAM PROJECT TO WORK ON?
Jerad—We are really excited about some commercial work we've started working on.  Working for other entrepreneurs, helping them build their brand and their space is pretty exciting.
Ryan—It may sound cliché, but our next project is always the one that I look forward to the most. I feel that each project is better than the last, and the things we learn along the way help influence future projects.
Nate—I can't say that I have a particular project type residential or commercial, that once it was complete I would call it quits. I would say that I am currently working on my "Dream Project." Studio Build really is a project in itself. Building a business and reputation for ourselves; learning, growing and evolving as we go. It has been a fun and interesting ride so far. I am looking forward to our future.
"WE ARE ALWAYS AMAZED BY THE GENORISITY OF OUR COLLEAGUES IN THE DESIGN COMMUNITY."
HOW HAS KANSAS CITY INFLUENED YOU CREATIVELY?
Our creative community is inspiring. There are a lot of great firms producing fantastic work. Seeing that quality of work constantly pushes us to design and build projects of the same caliber. There are definitely some eclectic neighborhoods around town that we still stumble upon, and we've been fortunate enough to contribute to some of them. We've had a number of collaborators and are always amazed by the generosity of our colleagues in the design community.
WHAT ADVICE WOULD YOU GIVE TO STUDENTS INTERESTED IN OR CURRENTLY STUDYING ARCHITECTURE?
Our advice would be to take every chance you can to build. Even if it's not required by your academic curriculum, build for the sake of building. We believe it is critical because it changes the way you think when you are designing.
It's always important to strengthen your weaknesses. At the same time, find what you're good at and execute it as much as you possibly can. If you can build a scale model better than anyone in your studio, build models for every project. Don't beat yourself up over producing exactly what is required by your professor. You may be evaluated a little tougher, but you'll be a greater asset to firms professionally.
Get out of your comfort zone! Draw, sketch, build and travel!
UNIQUE TO KANSAS CITY, WHAT IS ONE LOCAL RESTAURANT, STORE, OR SPACE THAT YOU LOVE?
We're suckers for good food. Kansas City BBQ, Local Pig, Westside Local & Christopher Elbow Artisanal Chocolate are a few of our favorites.