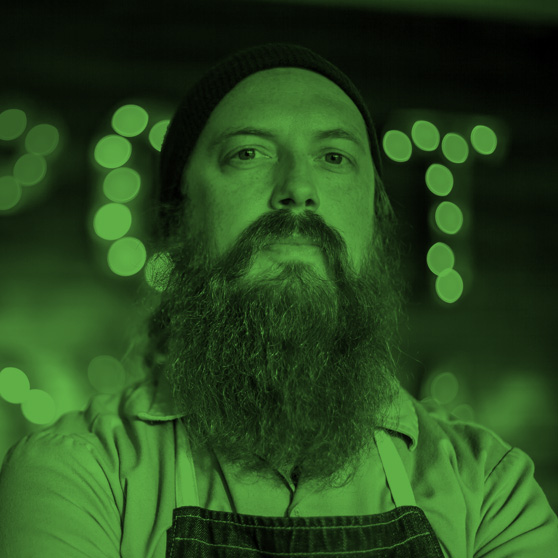 AS EXECUTIVE CHEF/OWNER OF PORT FONDA, Patrick Ryan is at the forefront of the culinary revolution in Kansas City, Missouri. He takes a simple, ingredient-focused approach to Mexican street food, melding authentic flavors with a farm-driven Midwestern sensibility. He opened the first iteration of Port Fonda, an underground restaurant in a vintage Airstream trailer 2010. He went on to open the brick-and-mortar Port Fonda in 2012, seamlessly translating the fast-paced, uncensored street-food mentality to a restaurant environment.
Describe your path to becoming a rock-star chef. Was creativity encouraged growing up?
I STARTED COOKING at a really young age.  More than anything, I owe my culinary abilities to my Mom and her parents. Her Mother grew up in New Orleans and her Father grew up on a farm in Kentucky, so I guess their love of food, cooking and entertaining was always around me. After messing around in my Grandparents backyard garden, I vividly remember cooking cinnamon apples with bacon in a cast iron skillet and fresh picked green beans with country ham (my Grandpa liked to eat those with cottage cheese).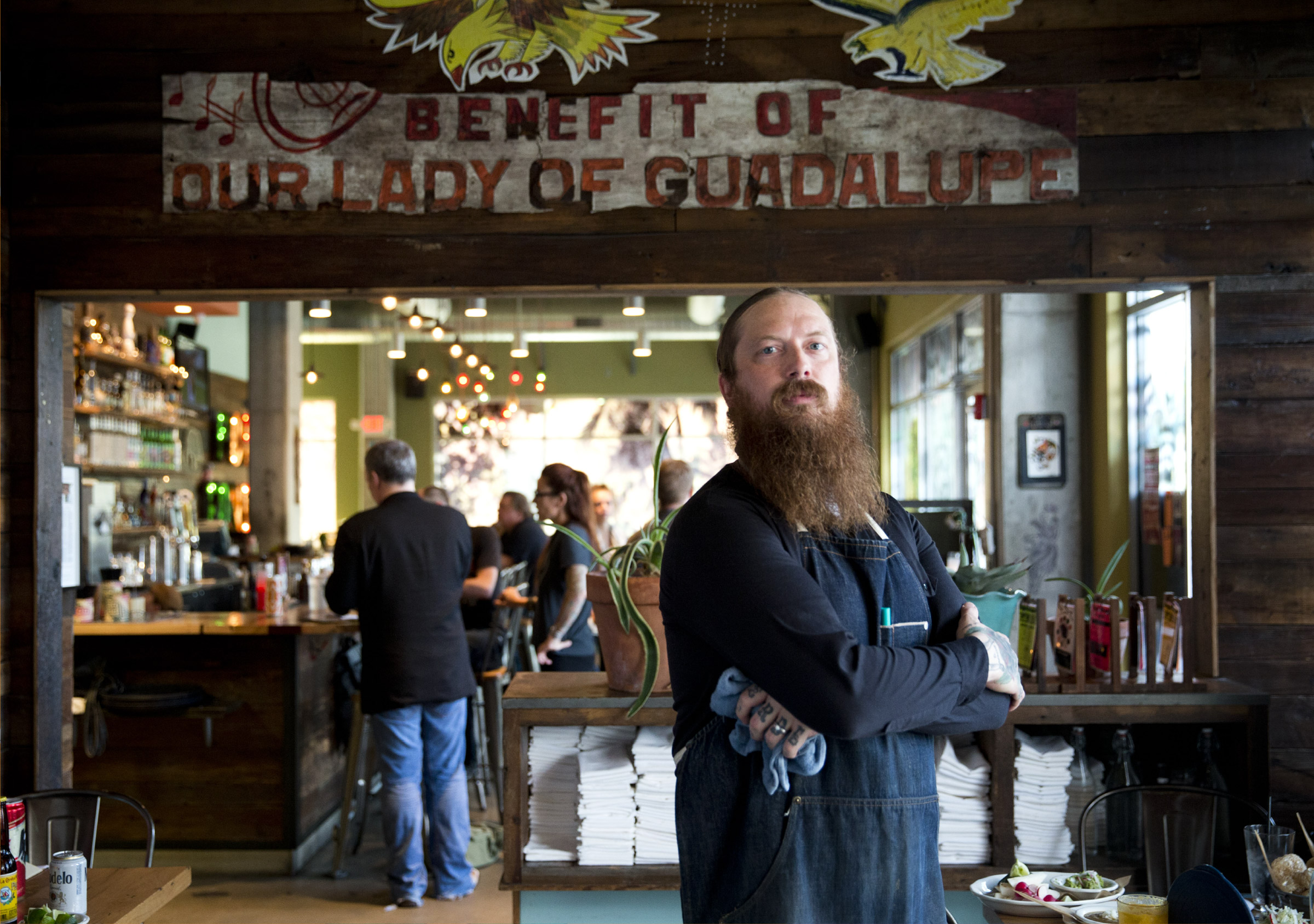 YOU STUDIED AND WORKED ALL OVER THE COUNTRY AS A CHEF. WHY DID YOU DECIDE TO OPEN YOUR FIRST RESTAURANT IN KANSAS CITY?
I think it makes more sense to cook for and with people that I understand and that understand me. After being gone for so long, I saw Kansas City as a great opportunity to do something new and exciting for the area—maybe I sensed the tipping point? I wanted to come home and become part of the growing food and drink community and I thought that I would bring a different element to the scene with Port Fonda. Becoming part of the Westport Arts and Entertainment District has been great for our business.
HOW HAS KANSAS CITY INFLUENCED YOU CREATIVELY AND HOW YOU CREATED PORT FONDA?
KC IS NOW a small city with some large city tendencies, from food/music/design/art/fashion. I think almost anything is possible if the time and team is right. The majority of people that live here aren't intimidated by new ideas anymore. So many people in Kansas City get to travel to larger cities (whether it's Chicago, New York, SF, Austin, etc.) and they come home wishing that we had something like "this place or that place" here. My thought process was simple, right, why not?

PORT FONDA MERGES MEXICAN STREET FOOD WITH MID-WEST BASED FARM FRESH FOOD.
HOW DID THIS CONCEPT COME ABOUT?
I basically had an epiphany after some frustrating tries to get other things going. I tried to remember when I was most happy cooking and it was when I worked at Frontera Grill in Chicago. There was nobody here doing anything remotely similar to that type of food (other than some mom and pop shops on the Boulevard) and decided that I just want to make the food that I like, the food that I think is cool and relevant. I set out to basically cook for myself as the target customer and hoped that people would like it.  Once the restaurant started to really take shape, I really wanted to add some other details and put some decent time into the design, atmosphere and vibe of the place, something that very few places around here were doing at the time.
"I just want to make the food that I like, the food that I think is cool and relevant.

"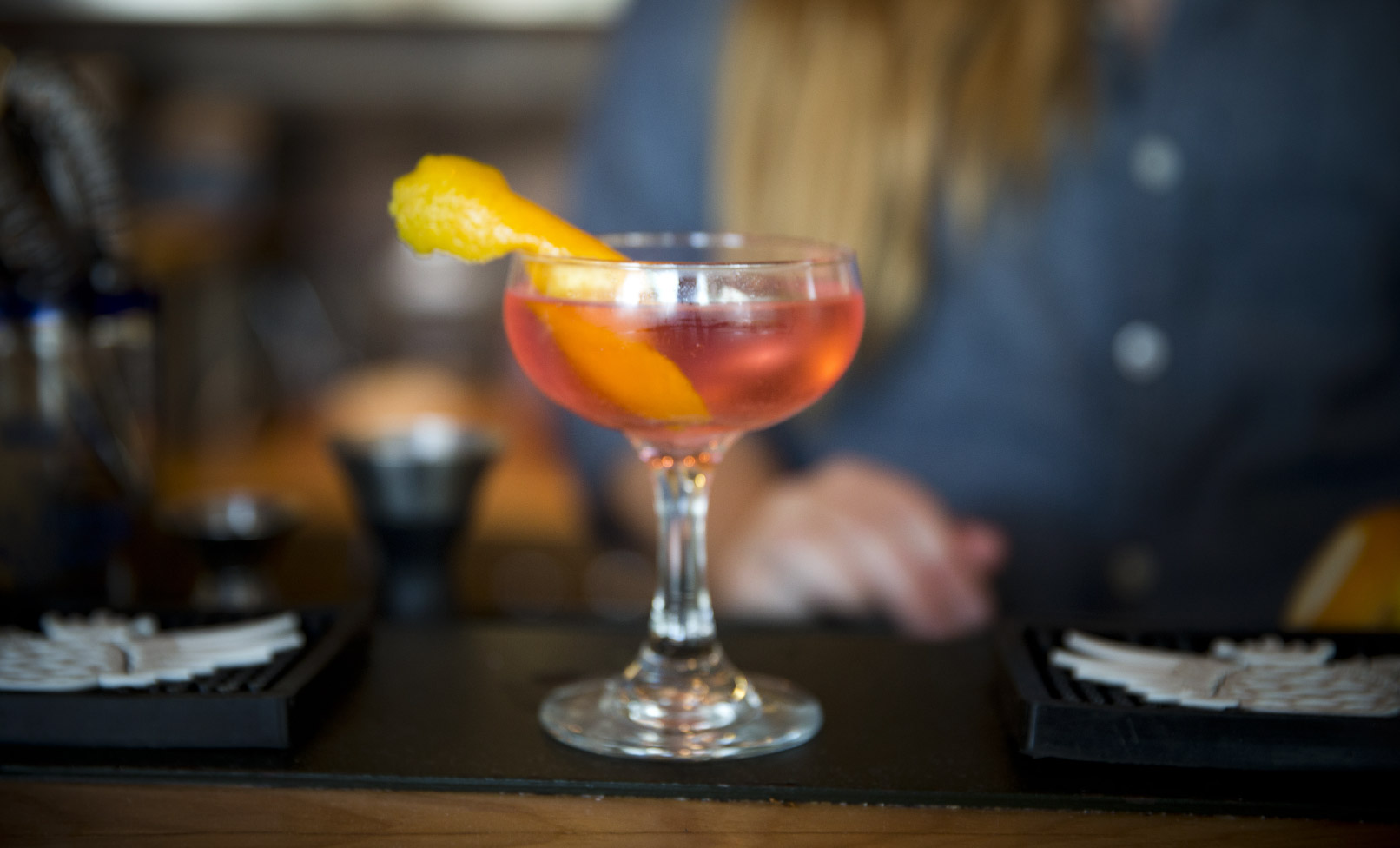 "I surround myself with people that i like and respect what they do and who they are."
When running a restaurant there are a lot of moving parts and people.
How important is collaboration within your process?
Some wise people taught me that more often than not it's a good thing to not always be the smartest person in the room. I'll give you some bullet points even:
• I try to surround myself with people that are very good at what they do. It makes me better and more versatile.
• I ask for help if I don't know how to do things. I never try and pretend or fake it. I ask questions and learn.
• I surround myself with people that I like and respect what they do and who they are.
• I continue to write down and update monthly, yearly and long-term goals.
• I keep a very good core group of people around me that have known me for my ups and downs. I've got real friends.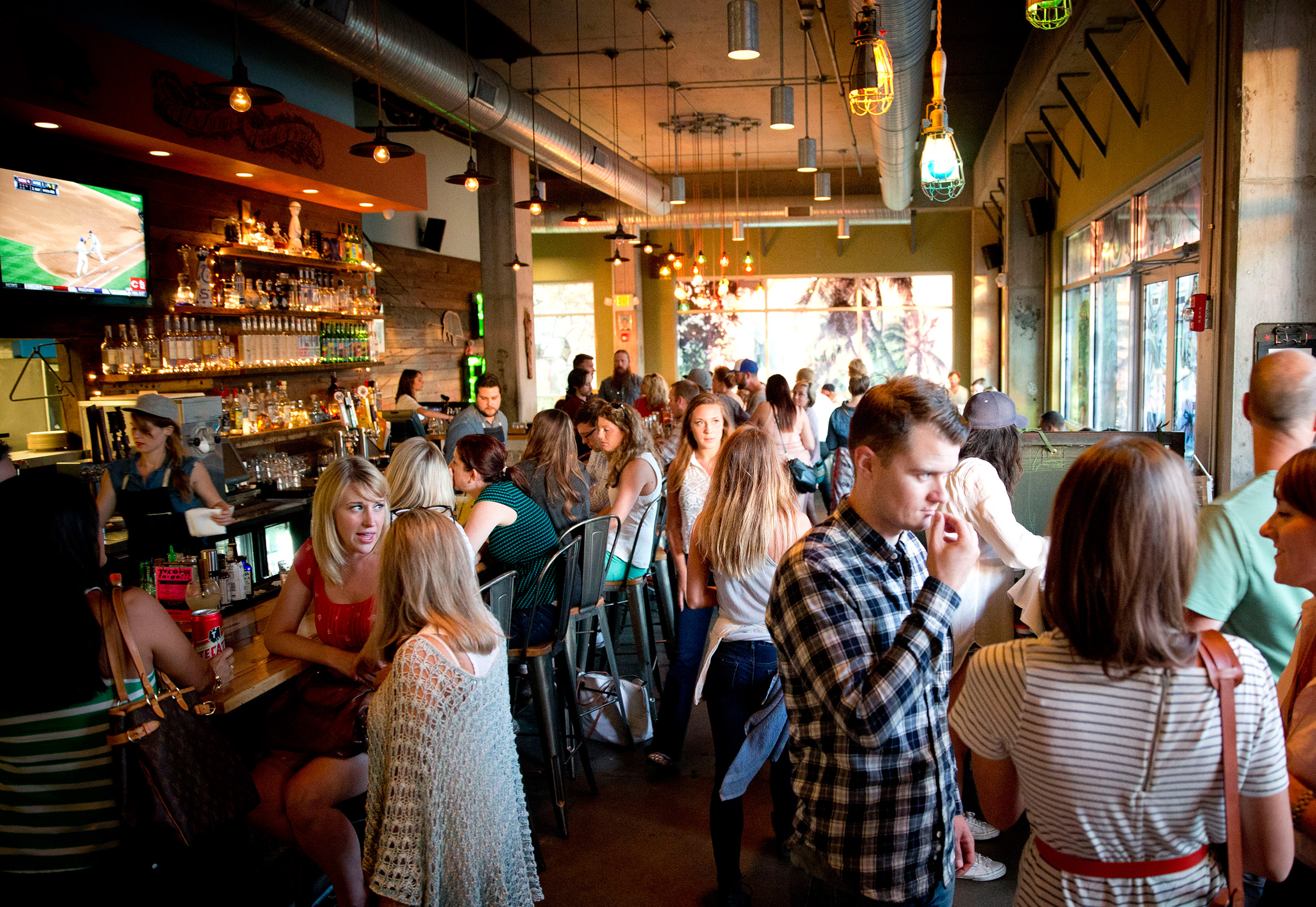 If someone had never been to Port Fonda and they were going to order just 1 thing. What should they order?
I think the chilaquiles is a great representation of something that is a classic Mexican dish done in a very Port Fonda way. It's my favorite thing to cook there because there are so few ingredients but they're all made at Port Fonda. The chorizo verde, the salsa de molcajete (tomatillo salsa), crema, etc. It's a perfect dish for breakfast, lunch, dinner or late night.
If you could moonlight as another profession, what would it be?
Anything else I think about doing always has a food/drink spin to it. I love restaurants and bars, I like all of the moving parts as you say. The fairly obvious answer is that I'd like to travel and write about food. Visiting friends all over the country and having them take me on their favorite night in their city, much like the Esquire Networks show "Getaway". As far as writing about places, you can't really do that objectively if you own a place.  Even if you're being honest about a place that's either bad or good, people will read too much into it. The not so obvious answer… I'd like to train otters at the Shedd Aquarium.
WHAT ARE YOU MOST EXCITED ABOUT THESE DAYS?
I'm in love with Kansas City right now. I'm shocked and impressed with what is happening here. I love that over the last couple of years, we've become a sports town. Not just a town that has sports teams but a city that has successful sports teams. Sporting KC won the MLS Cup last year, the Royals were in the World Series this year and the Chiefs are looking good right now (hope this isn't a jinx).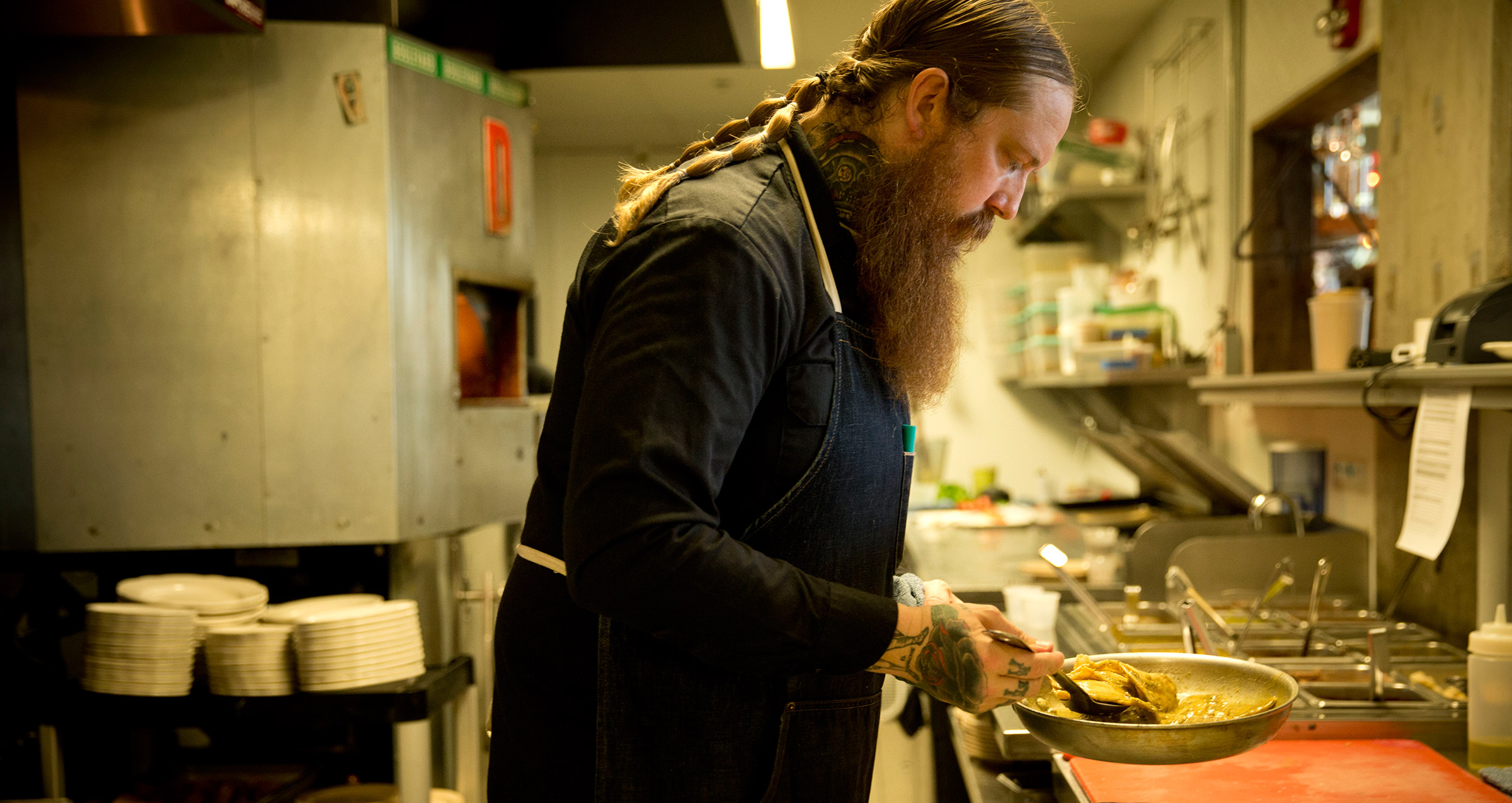 What is a day like running Port Fonda?
That's impossible to answer. Sometimes I think I do an awesome job and sometimes I feel like I'm failing miserably. Sometimes it's both in the same day. It's basically an entire day of trouble shooting and problem solving. The more hours I put in the more I have to do (obviously) but at some point I have to leave and let people figure shit out. There comes a time where my value to the business decreases if I'm the person that has to look for batteries and figure out how to put paper towels in the dispenser.  Honestly, if my biggest asset to the business is that I'm the best at cooking eggs at brunch, we've got a problem. The most difficult thing about my role is that I'm constantly delegating responsibility, following up with people and trying to motivate the staff. I don't really have anyone that does that for me, you know. I have to be disciplined and extremely self-motivated to stay on track, but that's what I love about it, i think…
What is your guilty pleasure food? Why is it so darn good?
I EAT PIZZA EVERY WEEK, sometimes a few times a week, so, it's not really a guilty pleasure, although it is. I don't think pizza needs me to tell everyone how good it is. If you haven't tried Johnny Jo's in the West Plaza or one of Pizza Bella's locations, you're missing out.
As far as real shitty stuff that I shouldn't eat… my wife recently made sugar cookies with funfetti icing that we devoured while watching Home Alone. It was worth it.

WHAT IS THE WORST THING YOU HAVE EVER EATEN? WHY WAS IT SO BAD?
I didn't order it because I would definitely have known better, but I had a lavender panna cotta while on some ridiculous high school dance date at a place here in the city and it was horrible. It must have been, right? I remember it from 20 years ago. As long as there's chocolate and fruits I don't really need a dessert that tastes like sweetened laundry detergent.
WHAT WAS THE BEST THING YOU HAVE EVER EATEN? WHY WAS IT SO GOOD?
I worked at a place called Fortunato in Chicago around 2002.  It was a rustic Italian restaurant anchored by a wood-burning oven and wood-buring grill similar to the river cafe in London. We had a dish there in the fall that was marinated/grilled venison loin, brussels sprouts, roasted squash, roasted chestnuts, pancetta and saba. I was a young cook working at the best new restaurant in Chicago and I was very, very proud to send that dish out time after time. I went to Italy a few years later for the Slowfood Terra Madre Conference in Turin and all of the food that I had out there was shit compared to Fortunato.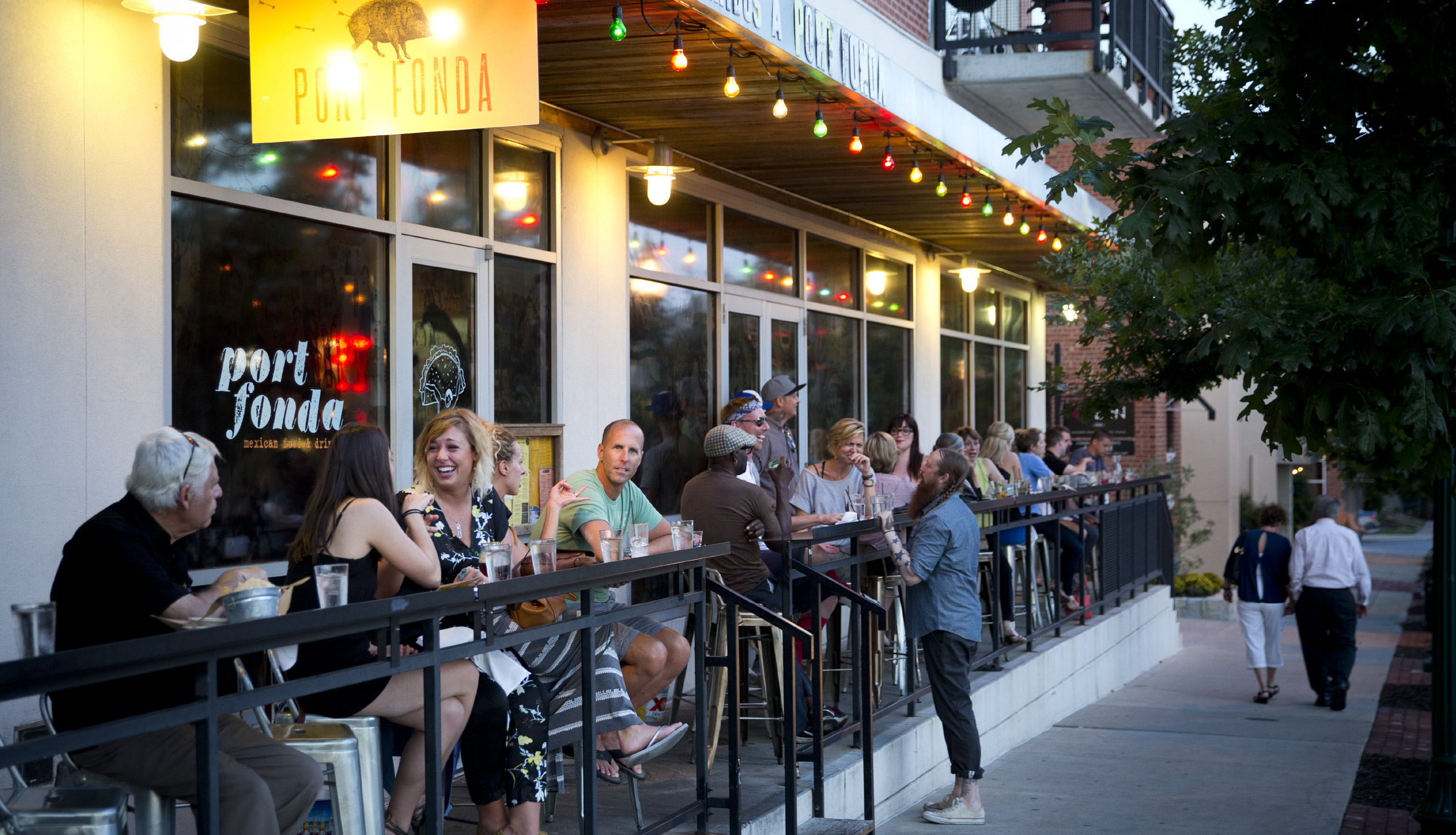 IF YOUR LIFE WAS A SONG WHAT WOULD IT BE CALLED? WHO WOULD YOU WANT TO PERFORM IT?
HOW LONG?! And either the Big Tymers or Tesla.
WHATS YOUR FAVORITE SEASON IN KANSAS CITY? WHY?
Most definitely fall. One of my favorite things here in KC is that we do get to experience the season changes.  As the cold weather creeps in and the football season is in full swing we get to switch from spring/summer ingredients and focus on fall, braised meats, moles, caldos and sopas, stick to your ribs and love handles food.  Plus, I hate hot weather. So, I'm happy to have my boots and jeans/Carhartt's and jackets.
"I'm in love with kansas city right now."
UNIQUE TO KANSAS CITY, WHAT IS ONE LOCAL RESTAURANT, STORE, OR SPACE YOU LOVE?
It's hard to name just one. I have so many talented friends that run some of the city's best restaurants, stores and spaces. But I'll throw this out there. My friend, Bob Asher runs a place called The Ship in the West Bottoms. It's a bar that's been refurbished with a nautical theme and parts of it have been around since the 1930's. If you time it right, you might get down there to enjoy some of the bottom feeder's award winning Kansas City BBQ. I watched game 6 of the World Series down there and it was one of the greatest sports fellowship nights of my life.