Hufft Projects is a diverse design collective based in Kansas City with a passion for quality craftsmanship and a keen interest in the developing role of the designer, fabricator and builder in the modern world. Matthew has a hand in the design process of every architectural project that Hufft Projects undertakes. His leadership, creative direction and wealth of experience combine with the talents of all studio members to create beautiful, enduring works of architecture.
Where did you grow up? Was creativity supported as you grew up?
I GREW UP ON A FARM outside of Springfield, Missouri. Most of my entertainment came from making and exploring at a very young age. I believe this taught me a lot about being creative and always curious.
"Sometimes challenging, often exciting, always rewarding."
What is the process like designing modern structures in the Mid-West?
SOMETIMES CHALLENGING, often exciting, always rewarding. The Mid-West is still a relatively untapped frontier for those willing to push the envelope with modern day technology. Kansas City has remarkable historic architecture as well as a  desire and appreciation for progressive, innovative design that is often underestimated. Working in the Midwest is all about respecting the context while striving to create something that is innovative and new.
"Working in the Midwest is all about respecting the context while striving to create something that is innovative and new

"
Your studio Hufft Projects offers a diverse range of design solutions. How is collaboration among these artisan impact the way you work?
WE FEED OFF THE CREATIVE ENERGY and diverse talents that everyone brings to our studio. With so many different creative professions under one roof, communication is key. We are constantly checking ourselves to make sure that our designers, fabricators and builders are learning from each other and talking to each other to arrive at the best possible solution.
The insights gained from having architects, interior designers, industrial designers, fabricators and builders all working towards a common goal greatly outweigh any bumps along the way.
The Porch House is a very unique project. Would you speak to the design process of designing a modern update to a traditional Missouri Farmhouse?
OUR CLIENTS LIVE ON A BEAUTIFUL SITE in Springfield, MO. They're surrounded by barns, farmhouses and the vernacular architecture of the Ozarks, including a very cool old barn on their property. In designing the Porch House, we drew from that historic context. We created a residence with traditional forms—a gabled roof, dormers and a generous front porch—then applied modern detailing, clean lines and indoor and outdoor spaces suited for modern living.
You have a passion for and create beautiful furniture under the name Edwin Blue. Is the process of designing furniture similar to your architecture practice?
IT'S SIMILAR IN THAT it is a process of identifying a need, proposing a solution and following an overarching concept that unifies our design. You have to consider means of production, technology and the way the furniture is built in a very direct, practical way. The process of prototyping and refining very small elements of the design is a big part of our product design as well. It's also very much about understanding the manufacturing process so that the furniture you design can be reproduced efficiently.
We enjoy the opportunity to work at a smaller scale and hone in on the details. It informs our architecture work.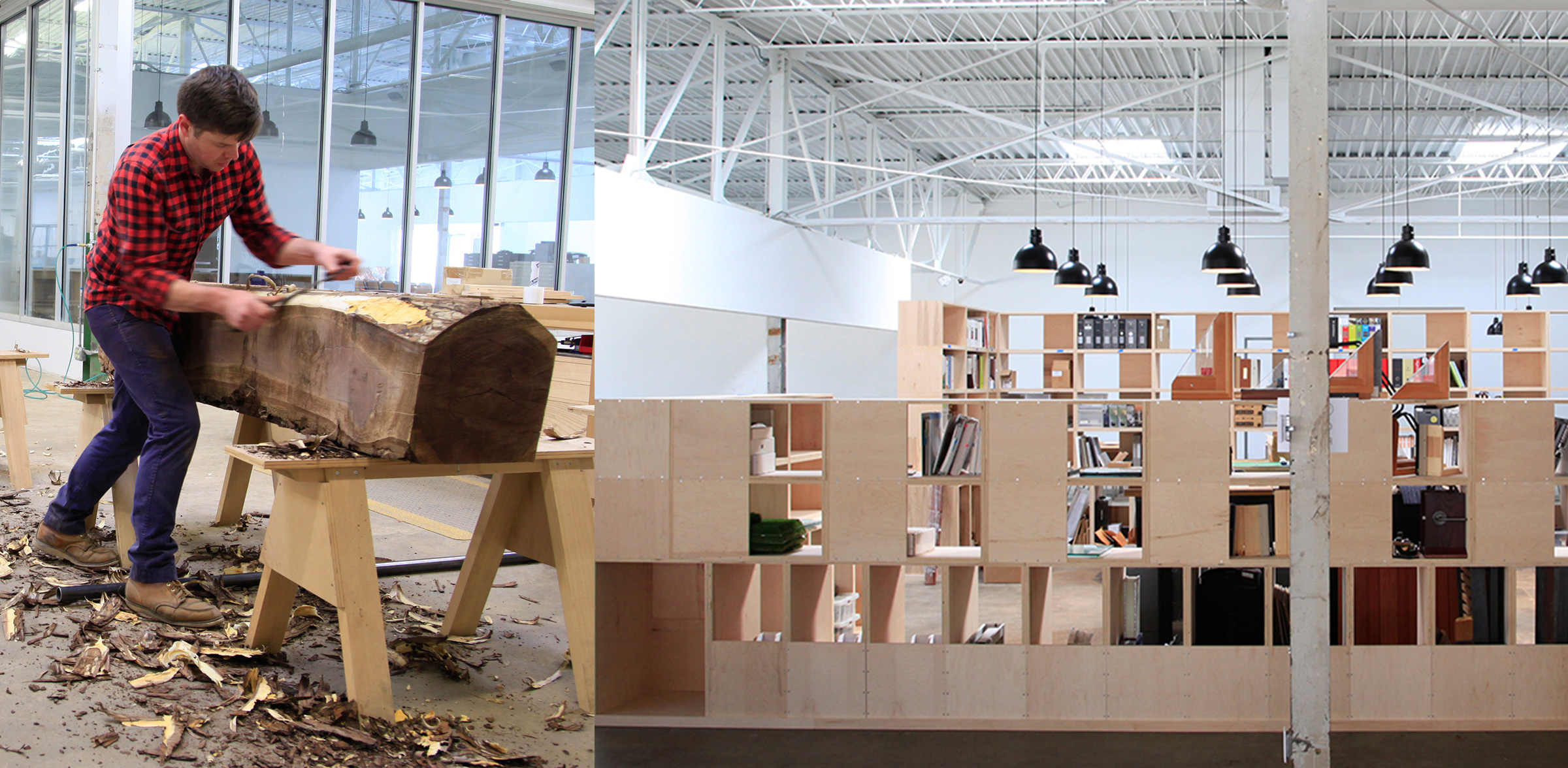 "We enjoy the opportunity to work at a smaller scale and hone in on the details"
What makes Kansas City a special place for creative people?
THERE'S AN ENERGY IN OUR CITY that just seems to keep growing. We have incredibly talented people and firms working in the fields of architecture, graphic design, illustration and industrial design, to name a few. It's a place where people can afford to live comfortably and raise a family, while still creating nationally and internationally renowned work.
Also, because of it's geography and history, the city still has room to grow. Kansas City can feel like a blank slate that has a place for many new creative ideas.
What kind of work are you doing right now?
EVERYTHING FROM LARGE CUSTOM HOMES to small interior renovations, frozen custard shops, retail stores, custom furniture, product design, historic renovations, offices and industrial facilities.
Woodside Village, a mixed use development beside Woodside Health and Fitness Club, recently broke ground in Westwood, KS. We just finished Farmers Park, a 60 unit residential development that centers around a Farmers Market. It was awarded an AIA Central States award for urban design earlier this month.
If you could meet 1 person dead or alive that has inspired you, who would it be?
What would you talk about?
CHARLES AND RAY EAMES. How do you focus?
Unique to Kansas City, what is one local restaurant, store, or space you love?
KNUCKLEHEADS SALOON—live music while sitting on top of a train car.