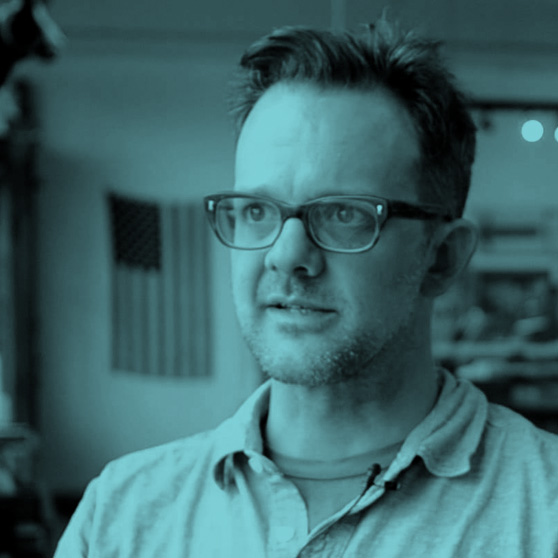 Brady Vest STARTED HAMMERPRESS, a letterpress shop, in 1994 with one printing press and a cabinet of type. Hammerpress has since grown to a handful of employees, several printing presses, and countless wood, block and type pieces. Hammerpress makes letterpress cards, stationery, ephemera, show posters and art prints in their studio and retail space in the heart of the Crossroads Arts District.
Share with us how you were first introduced to letterpress.
WHEN I WAS FIRST GOING TO SCHOOL at the Kansas City Art Institute (1990-1994), I was fortunate to be there during a time when the members of the band The Coctails were attending there. They were producing all of the great printed products for their band—shirts, hand printed posters, dolls, buttons, zines, etc. Some of those were letterpress printed, some were screen printed, but they were all so wonderful and amazing. I hadn't really seen anything like that other than in high school when folks were photocopying zines and hand printing t-shirts for punk bands. So, that led to an interest in this weird inbetween world of art and design. They were basically making large quantities of art and turning them into products. There was a very small letterpress setup in the printmaking department that no one used at the time. I started working with a group of friends that were musicians and that led to making a series of record covers, cd covers, posters, etc.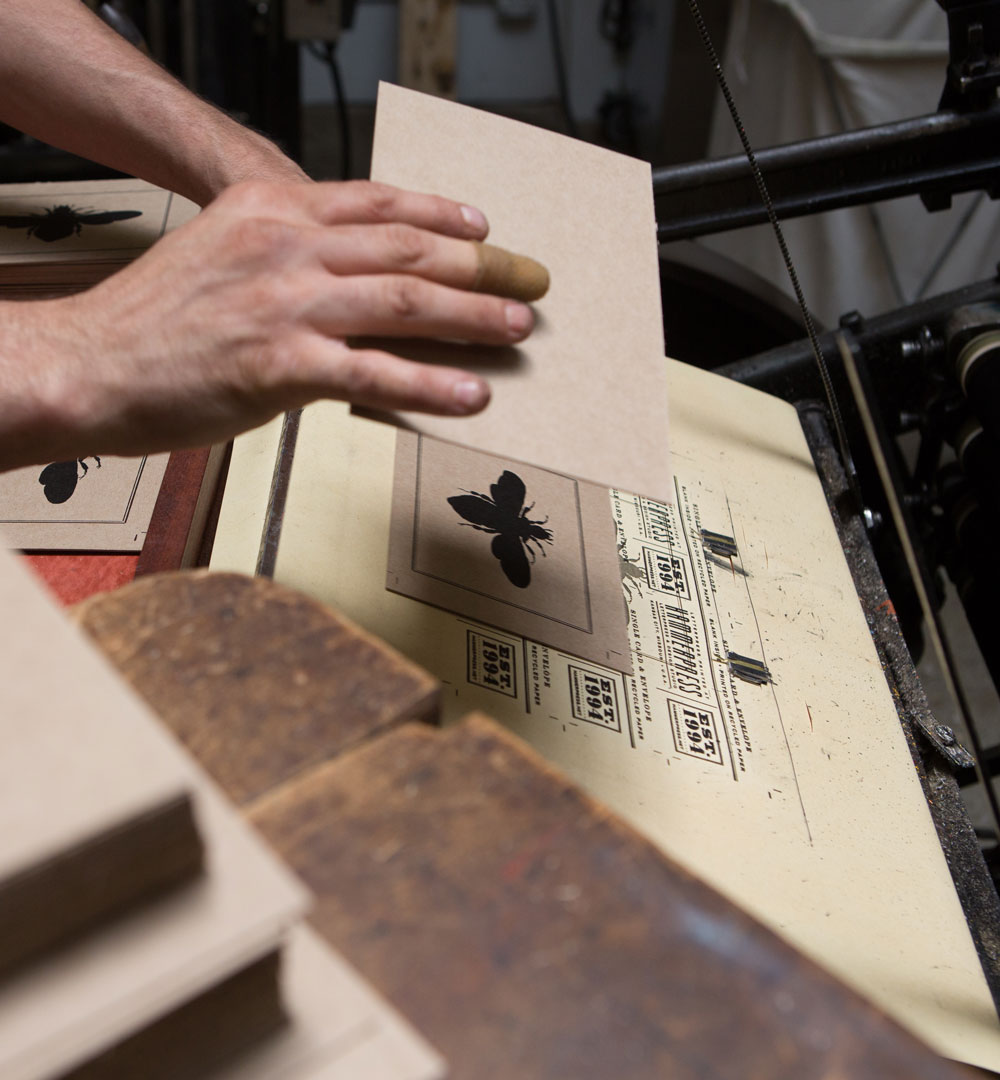 Where are you originally from? Was creativity encouraged when you were
growing up?
I AM ORIGINALLY FROM OKLAHOMA CITY. I was very lucky to have incredibly supportive parents and grandparents. They supported almost anything I did from baseball to breakdancing (yes, breakdancing), art making to skateboarding and somehow they were even fine with letting me hang around with a bunch of skateboarding okies and going to punk shows in the city.
"THE PRESSURE IS MUCH LESS HERE AND THE SUPPORT AND LOYALTY OF THE CITY IS HUGE."
How has Kansas City inspired or influenced your work?
LIVING IN KANSAS CITY HAS ALLOWED ME to start a very small business without knowing much about what I was doing at first. The cost of living allows for a lot of opportunity that is not necessarily available in other larger cities. The pressure is much less here and the support and loyalty of the city is huge. Kansas City has grown and changed in a lot of ways in the last several years, but those things still seem to remain.
Your greeting cards and stationery are made here in KC but carried all over the world. What has that process been like?
HAMMERPRESS FIRST STARTED DABBLING in that world about 10 years ago. I think it started when we moved to a space that had a tiny little retail space at the front of the shop. We just started making cards and small printed pieces to sell out of the store. My girlfriend at the time, and now wife, had way more knowledge of that world than I did and opened up the world of wholesale and trade shows to me. It seemed like a good avenue to grow the business and would allow us to rely on our own designs to keep us going. That has now grown to be around 60% of our business and our main focus in the studio.
How do you find balance between creating the Hammerpress line of products and client requests?
AS OUR WORKLOAD HAS GROWN, we have added new members to the team. We have organized our world at Hammerpress (a lot more than in previous chapters) so we can take on new and exciting work and keep up with our own line of products. We have 3 designers, including myself, and they do an excellent job balancing this worlds.
Hammerpress just celebrated it's 20th anniversary. What do you attribute your success and longevity to?
THERE ARE A COUPLE WAYS TO LOOK AT THAT. The first is that we love what we do and feel fortunate to be able to do this for a living. It gets hard like any job, but I think we try and remind ourselves that were are very fortunate. Another reason is that I seem to be a glutton for punishment and I just kept going until it got to a point where it was actually a sustainable business. There were a lot of difficult years and I am fortunate that those years occurred when I was much younger and had much more energy for ridiculous hours.
"...we love what we do and feel fortunate to be able to do this for a living."
What are you most excited about these days?
WE ARE GETTING READY TO MOVE to our 6th location in the last 20 years. It's an amazing mid-century building that allows us a lot more space to accommodate our current workload and the number of employees we now have at the shop. It's a pretty large undertaking, so while it's also incredibly nerve-racking in many ways, it's also incredibly exciting.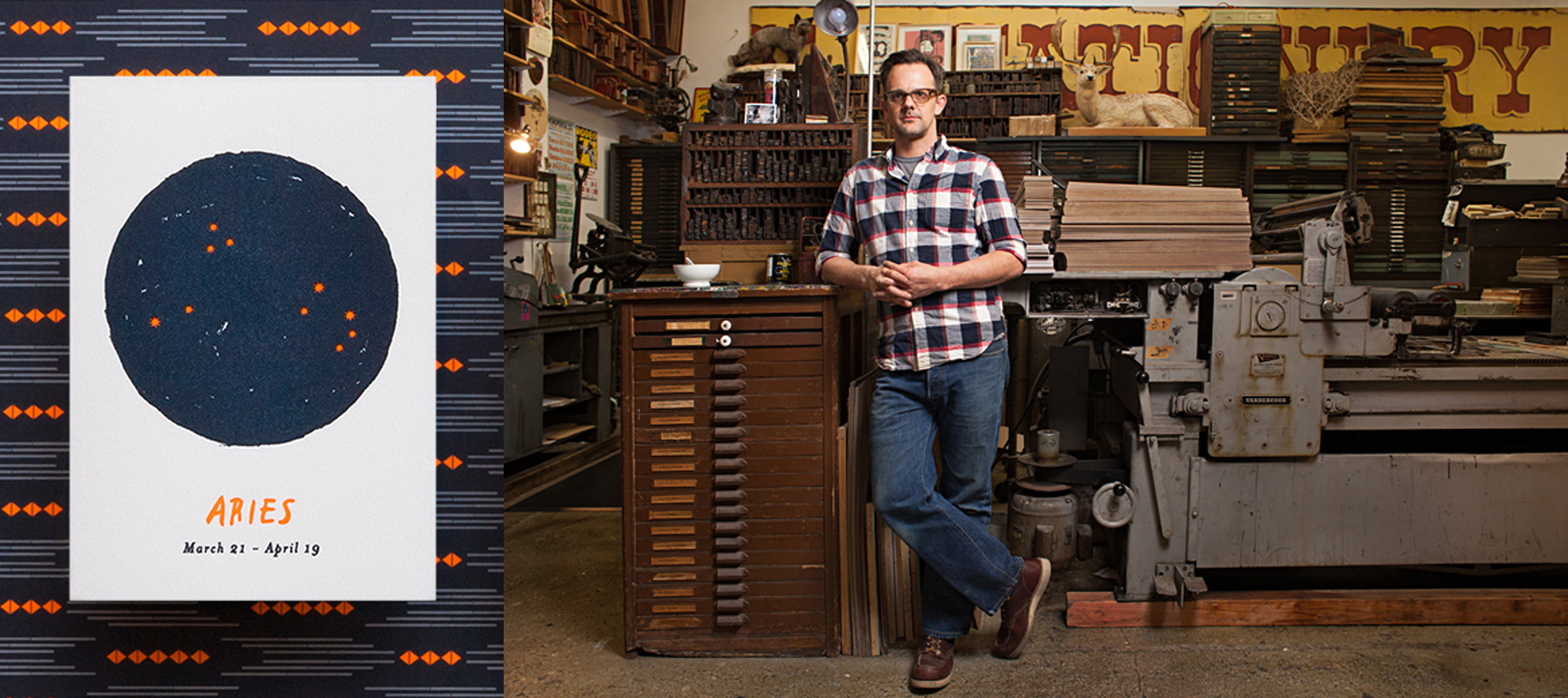 WHAT'S THE LAST HOBBY YOU PICKED UP?
I HAVE TO BE HONEST, I've never been one to have a lot of hobbies. I have always tending to be a little obsessive about one thing and not make a lot of room for other things. I realize this is probably not the best way to do things. I think the closest thing to a hobby is motorcycles. I came to love this after hanging out with a group of guys that are totally into cars and motorcycles. We all went on a week long motorcycle trip to Baja, Mexico in 2013 for a friends 40th birthday and I was totally hooked. I'm really not that knowledgable yet and still trying to learn about stuff, but that's the closest thing I can think of to a hobby right now.
Unique to Kansas City, what is one local restaurant, store,
or space you love?
MAN, THERE ARE SO MANY RIGHT NOW it's hard to pick just one. Kansas City has really exploded in the last few years in regard to food, shopping, retail, etc.
My favorite restaurants right now are Novel and Voltaire; both totally different but amazing in their own ways. Their commonality is that they both occupy spaces that housed former restaurants that had a really great following but both totally reinvented and reinvigorated the spaces and breathed a whole new life into them. Both have amazingly talented chefs and staff and both are incredibly friendly.