ANDREW IS A KANSAS CITY PHOTOGRAPHER,  who spent the last decade in Nashville. With his foundation in the action sports world, Andrew developed a unique style that has carried over to his commercial work, primarily in fashion and music portraiture. Whether on set for an ad campaign or snooping behind a building in a foreign country finding the best angle, his passion for creative imagery and photographic thumbprint are evident no matter the conditions.
DESCRIBE YOUR PATH TO BECOMING A PHOTOGRAPHER. WAS CREATIVITY ENCOURAGED GROWING UP? WHEN DID YOU KNOW PHOTOGRAPHY WAS WHAT YOU WANTED TO PURSUE?
MY THIRD YEAR IN COLLEGE I bought a used DSLR on Craigslist so I could shoot friends riding BMX. Backstory- I've ridden BMX since age 12. BMX isn't so much an activity like playing tennis, it's an obsession that forms an entire worldview. It was the reason I opted to skip drunken Cancun spring breaks in favor of cramming all my friends into a shitty car and driving around the Midwest to grind handrails on college campuses, pooling just enough money to buy the worst hotel we could find while eating gas station hot dogs. The reason we stayed awake playing pool in my basement till 1 in the morning so we could sneak into a drained pool and ride for 10 minutes before getting kicked out. It is the most formative piece of my life.
Back to cameras: I bought one so I could shoot my friends riding. BMX and lenses go hand in hand; it's part of the experience. There was a guy in Nashville who shot video, but no one shooting photos. I started bringing my camera along. It was an incredible opportunity, and my learning curve was steep. But it was kind of amazing that I had subjects to shoot for five hours every day from day one of owning a camera. I learned quickly.
Eventually, my BMX friends in town started to get attention and land sponsors. The sponsors needed images for advertisements, and I just happened to be the guy in town who shot photos. After I began selling a handful of images here and there, I graduated college and began looking for 'The Job'. This was in May of 2009, the absolute worst time to look for a job. I didn't find anything all summer, though didn't really want to either, and come August I sat down and tallied up what I needed to make in order to survive—which at the time was rent split 6 ways, cheap beer and ramen—said I was gonna give this photography thing a year and if it doesn't work out come next fall look for a Real Job. Not a very romantic way to enter the professional arts, but I never had to toil over quitting a 9 to 5 to pursue my dream. It was a survival decision.
"I shoot BMX cause it's part of my DNA"
YOU GOT YOUR START SHOOTING BMX BIKING, WHAT DO YOU ENJOY MOST ABOUT SHOOTING THAT? DESCRIBE YOUR PROCESS ON SUCH AN INTENSE ACTION PACKED SHOOT. (AND DO YOU RIDE?)
RIDING IS AN ABSOLUTE REQUISITE TO SHOOT BMX. It's always very obvious and funny to see photos of BMX from those who have no clue about the sport. It's not even a lack of understanding nuances in the tricks, most of the time it's an image of a floating subject against sky with no reference to what's actually going on. Strange. I shoot BMX cause it's part of my DNA. I could never really stop shooting it. I'll never be able to look at a street handrail and not picture grinding down it, just like I can't look at a scene and not envision a photo. BMX shoots are rarely 'shoots'. I have to explain that all the time to people. "How did you decide on that location? When was call time? What kind of crew did you have on set?" Uh, it was me and the rider, we pedaled from my house with all gear on my back. No regard for permits or security, just the thrill of accomplishing what a rider and photographer seek to collaborate. When I lived in Nashville I'd meet up with riders most days, some days we ended up shooting a photo, others not. It's definitely more fishing than catching. These days I have to jump on a plane to shoot BMX. They're usually week long trips to various cities around the globe. If we're holding handlebars for six hours a day that's a success.
YOU MUST HAVE SOME GOOD STORIES OR AT LEAST SOME CLOSE CALLS FROM YOUR BMX SHOOTS… TELL US ONE.
I'VE BEEN REALLY FORTUNATE in the grand scheme, no thefts, huge repair bills, or violent muggings. I try to be really aware of my place, I'm definitely not going to stick my camera in a stranger's face in a foreign country. I did have an irate American motorist swerve across lanes to intentionally hit me while pedaling home from a shoot. She called me and asshole and was really mad that I wasn't on the sidewalk. I try not to be this guy (https://www.youtube.com/watch?v=V3nMnr8ZirI) but that was a test of patience.
On another occasion while shooting in Copenhagen, we took a field trip to Christiania, which is an anarchist settlement without city intervention (read: drugs are sold openly). I was fascinated by the whole place, and couldn't refrain from trying to shoot photos which violated the one major rule of the place. Suddenly my camera was grabbed and I was getting hassled by a pissed off Danish ogre. Other goons swarmed over, and I was really at the mercy of the little pleading our local host could offer. Eventually they were pacified and I even got to keep my camera which I was not expecting.
ON THE OTHER END OF THE SPECTRUM, YOU CAPTURE BEAUTIFUL PORTRAIT AND FASHION PHOTOGRAPHY. WHAT DO YOU LOVE ABOUT THOSE SHOOTS? HOW DO YOU APPROACH THOSE SHOOTS DIFFERENTLY FROM YOUR ACTION SHOOTS?
MY WORK IS SPLIT into two books as you said. BMX is my foundation and something I continue to do, but along the way I got more interested in portraiture which then led to incorporate fashion elements. There's a lot to discuss between my two books but I'm not sure where to begin so I'll limit it to the questions at hand.
My portrait work is what inspires me to create, whereas with BMX I'm there to document. In the latter it's a top-down shoot where most of the variables are set outside my control and I'm there to capture the image. With the former it's bottom-up, I design shoots and create the conditions.
I brainstorm constantly, study other's work, plan, shoot, obsess over that side. It's limitless to me. I love how on a fashion shoot I'm confident in the yet to be created final product, but there's still plenty of room for 'aha!' moments.
It's also nice to step out of the uber-niche world of BMX street riding. Sometimes I need to come up for air, it's a great balance to have.
"PORTRAIT AND FASHION PHOTOGRAPHY IS WHAT I THINK ABOUT ALL DAY LONG

"
YOU HAVE RECENTLY MADE YOUR WAY BACK TO KANSAS CITY, WHAT DO YOU LOVE MOST ABOUT THIS CITY AND HOW DOES KANSAS CITY INFLUENCE YOU CREATIVELY?
HAVING LIVED IN NASHVILLE FOR A DECADE and seeing how it went from an obscure southern town to the insane hotspot today, as well as living in LA directly before moving to KC, what's most appealing about KC is being able to get a footing here. I could conceivably buy a studio space to live and work here. That's not possible elsewhere really. Nashville is priced out for the creative class, KC today is ahead of that curve. It's an exciting time.
"I love how on a fashion shoot I'm confident... but there's still plenty of room for 'aha!' moments"
YOU HAVE ALSO JOINED THE TALENTED GROUP AT RW2—WHAT'S IT LIKE WORKING WITH SUCH A LARGE GROUP OF TALENTED ARTISTS?
IT'S AMAZING, I couldn't dream up a better situation anywhere, and the fact that I didn't have to move to a coast makes it all the better. A photography career can be isolating, there's not much of a support system. Being welcomed into the RW2 family has had a tremendous impact on my KC experience as well as my work. I ride my bike to the studio most days when I'm in town, and just the ability to interact with other passionate creative people doing things is worth the trip, but on top of that having the Wade Brothers guide me and having access to the studio space and equipment… It's really overwhelming how awesome it's been.
WHO IS ONE PHOTOGRAPHER FROM THE PAST OR PRESENT THAT YOU WISH YOU COULD SHADOW?
BUZZ ALDRIN FOR SET LOCATION, Irving Penn cause he defined much of modern photography, Annie cause she's prolific and still shocks with new work. Other influences: Carlos Serrao, Dan Martensen, Danielle Levitt, Nick Maggio, Sebastian Kim for commercial work, Jeff Zielinski and Ricky Adam for BMX.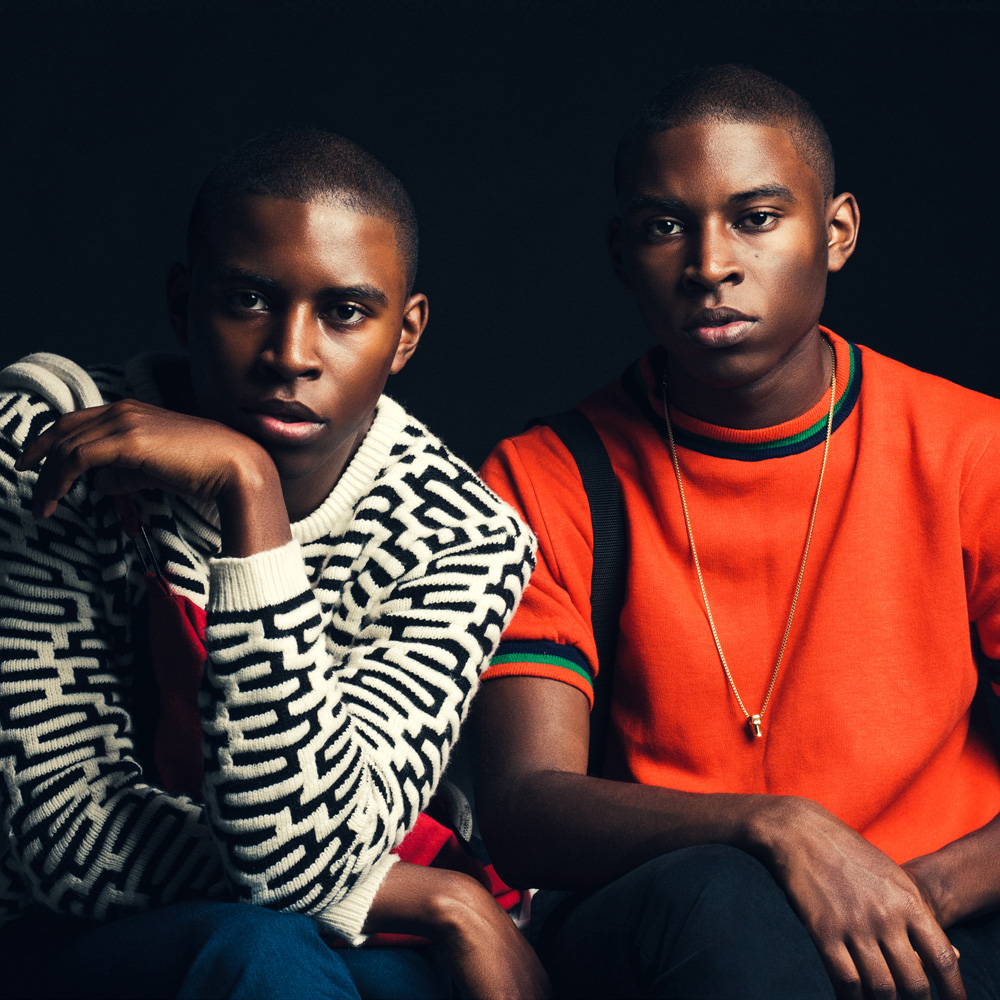 IF YOU COULD MOONLIGHT AS ANOTHER PROFESSION WHAT WOULD IT BE?
VEGETARIAN CATERING CHEF. I love cooking, it's a huge passion. I cook 19/20 meals we eat at home and we rarely eat out. I'd love to work in a professional environment, though I say catering because I've put in my time serving in restaurants and I do not miss those hours or the stress of turning tables.
IF YOU COULD SELECT ONE PIECE FROM YOUR PORTFOLIO THAT YOU ARE MOST PROUD OF, WHAT WOULD IT BE AND WHY?
MY ONGOING SERIES SHOOTING MY GRANDAD. They live on a farm smack in the middle of Kansas. I'm always super inspired to shoot while I'm there, I'm always bringing new film cameras to change it up. I've shot it so many times, but I always notice something new each trip. Obviously it's very personal to me, and it's without a doubt going to be what I look back on fifty years from now.
To a lesser degree, I shot a poster for a BMX company the first year I was intentionally shooting professionally. Prior to this I had a crappy DSLR and tried to sell a photo but the quality sucked and the company passed, I was gutted. So I bought a used medium format camera off craigslist for $225 and loaded it with chrome film. I took a trip to Atlanta the next day and shot with my longtime friend Nathan Williams. The film came back from the lab and it worked! I weaseled my way into the art department of my alma mater, where I spent hours scanning it, making sure it was just right (scanning film is like pulling out fingernails). After all that the company was stoked on the image and bought it. Another month survived! The poster had a decent circulation, and for years I saw kids all over the world tweeting pictures of the poster I shot hanging on their wall. It was a really validating experience in my early months shooting.
YOU SHOOT EVERYTHING FROM ACTION SPORTS TO FASHION. WHAT WOULD BE YOUR IDEAL DREAM SHOOT?
ONE WHERE I PUT THE CAMERA DOWN at the end of shooting and the following day get presented printed final images. Editing is a huge bottleneck these days for me, I find myself enjoying it less and less, and just wanting the images to be done so I can move on to the next project.
Outside of that, two examples that are in the works. I want to pack an old SUV with supplies and a couple people and travel the Western US. and document the trip—the camping, hiking, everything. Not so much travelogue, more directed on my part. This will also be my first venture into motion.
In BMX, It's always a huge treat to shoot trails. I rarely do it which is no one's fault but mine. So maybe invite some riders to spend a week in the woods of Colorado. I'm noticing an outdoors theme… maybe cause it's December and I'm dreading so much indoor time in the coming months.
"THE WEST BOTTOMS... looks like a sound stage or the lower east side in the 80s"
YOU HAVE TRAVELED AND SHOT ALL OVER THE COUNTRY AND WORLD. WHERE WOULD YOU LOVE TO TRAVEL TO NEXT?
NORTH KOREA, Singapore, Vancouver, Buenos Aires, Iran, Lima, Marrakesh, Thailand, Tokyo, Nepal. And I hear Maine is nice in the summer…
WHAT ARE YOU MOST EXCITED ABOUT THESE DAYS?

TRAVELING. I can't hold still. Jodee and I are spending part of the winter in California, and also we've vowed to get to Germany while my cousin is studying abroad. Also introduce her to my DIG BMX family in Glasgow while we're in the neighborhood.
WHAT'S CURRENTLY IN YOUR NETFLIX QUEUE THAT YOU CAN'T WAIT TO BINGE WATCH?
NOT BIG ON THE TV BINGE WATCHING THING, it's hard for me to sit still that long. But I could substitute this: favorite movie is Scorsese's Casino, and book is A Short History of Nearly Everything by Bill Bryson.
IS THERE A QUESTION YOU WISH WE WOULD HAVE ASKED YOU? WHAT WOULD YOUR ANSWER BE?
MITM: Would you like to take this Pappy Van Winkle off our hands?
AW: Yes.
UNIQUE TO KANSAS CITY, WHAT IS ONE LOCAL RESTAURANT, STORE OR SPACE YOU LOVE?
THE WEST BOTTOMS cause it looks like a sound stage or the lower east side in the 80s. it's obviously been shot a thousand ways… but not my way. I love going there if I'm bored; I pedal my bike around looking for new angles or ways the light hits windows. Hopefully it doesn't get developed too much and lose its quality.